Gaming CEOs positive about current business conditions but economic uncertainty tempers future growth, AGA survey finds
The American Gaming Association released Tuesday its Gaming Industry Outlook, which shows that the majority of gaming executives report a positive view of current business conditions, while economic uncertainty is tempering future industry growth expectations.
The Gaming Industry Outlook is presented in partnership with Fitch Ratings. Overall, nearly every gaming executive surveyed characterizes the current business situation as good (62%) or satisfactory (35%). However, panel participants report a more cautious outlook moving forward, with only 20% expecting future conditions to be better than today and two-thirds (64%) expecting future conditions to be the same.  
Bill Miller, AGA President and CEO, said: "Gaming's record momentum has continued into 2023, and that is clearly reflected by the attitudes of gaming executives around the country. While projections of slowing growth across the American economy are muting expectations for gaming in the medium term, our industry is well-positioned to weather any potential headwinds."
🚨 NEW: AGA's latest Gaming Industry Outlook, presented in partnership with @FitchRatings, shows a majority of gaming executives view current business conditions as good, while economic uncertainty is tempering future growth expectations.

Release ➡️ https://t.co/jIKd1Gm1Yh pic.twitter.com/WTzEkYqWeH


— American Gaming Association (@AmericanGaming) April 25, 2023
The Current Conditions Index of 106.0 shows strong growth in casino gaming-related economic activity in Q1, 2023 relative to Q4 2022, the commercial gaming industry's highest-grossing quarter to date.
Over the last three quarters, industry activity has been expanding at an annualized pace of approximately 8.4%, reflecting real underlying growth, controlled for the effects of inflation. Comparatively, the national U.S. economy grew 2.9% over the last two quarters of 2022, the most recently available quarterly data.
Gaming CEO Growth expectations remain positive but have softened relative to six months ago, according to the Gaming Executive Panel, a major input in the Future Conditions Index. In aggregate, across a set of outlook questions, the share of positive responses on measures such as future business conditions outweighed negative responses by 4.1% points this quarter, as compared to 24.7% points in Q3 2022.
The Future Conditions Index decelerated to 97.1 in Q1 2023, indicating that annualized industry economic activity is expected to decrease moderately over the next six months. The current Oxford Economics forecast predicts the U.S. economy will experience a mild recession in the second half of 2023.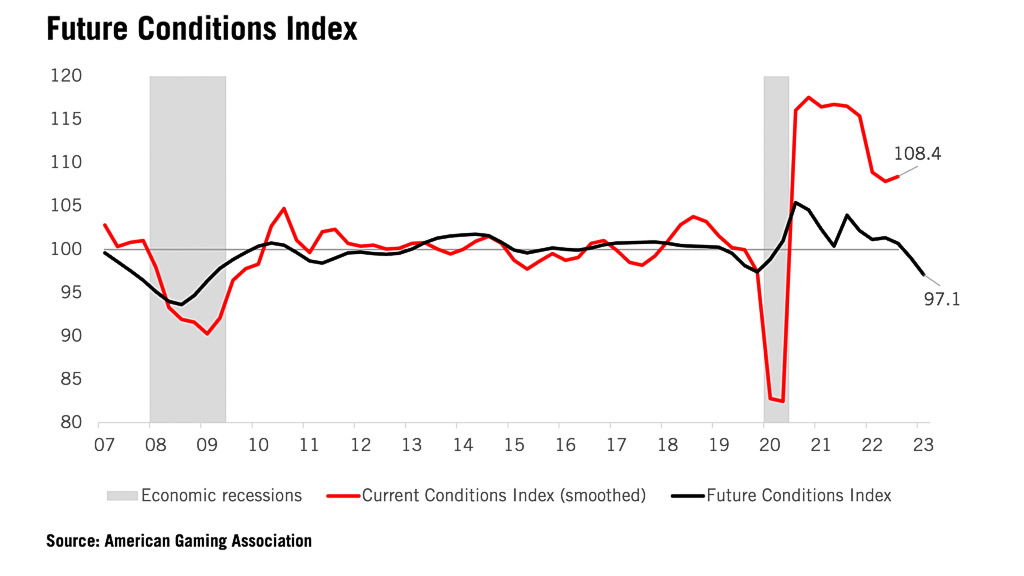 Results from the Gaming Executive Panel show a greater share of executives expecting the pace of new employee hiring, revenue growth, and customer activity to decrease over the next three to six months than to increase. Competition for current employees continues to be a challenge, with talent retention cited as another area of concern by the panel.
However, operators and suppliers both express outsized optimism across certain segments of their businesses:
More operators expect capital investment (21% net positive) and gaming units in operation (14% net positive) to increase over the next three to six months than decrease.

Gaming equipment manufacturers are particularly positive, with almost all supplier executives expecting sales of gaming units for replacement use to increase (88% net positive) and most expecting units for new or expansion use to increase (63% net positive). No gaming manufacturer expected the pace of sales to decrease.
Concerns around interest rates, inflation (cited by 69% of respondents), and economic uncertainty (38%) remain top concerns for industry executives. Meanwhile, supply chain delays have fallen out of the top five concerns of executives, replaced with geopolitical risk (31%).
Concerns around the availability of credit have also eased in the past six months, with the share of executives reporting access to credit as tight (20%) equally balanced by the share that views it as easy (20%).